WE SAY "NO" TO THE THINGS THAT WE BELIEVE AREN'T RIGHT FOR OUR CHICKENS AND TURKEYS, AND WE ALWAYS WILL.
We believe everyone should eat poultry that is healthy, pure and wholesome. We believe saying "NO" is a good thing if it prevents chickens and turkeys from eating animal by-products, being raised in conditions that require antibiotics to keep them healthy or being administered drugs that make them grow faster.*

*Federal regulations prohibit the use of hormones or steroids in poultry.
OUR ORGANIC CHICKEN
When we say "NO" to what isn't right for the chickens we care for, we mean it. We're proud to say our organic products exceed the requirements of the National Organic Standards Board by adhering to the GAP2 guidelines and being Certified USDA Organic.
WHAT'S THAT MEAN?
Our organic chickens are raised free range on certified organic farms. They have to ability to roam freely, in addition to:
✔ Houses with windows for natural light
✔ Outdoor access to sunshades and food and water
✔ Doors that allow them to go inside or outside freely
✔ Perches and pecking bales for play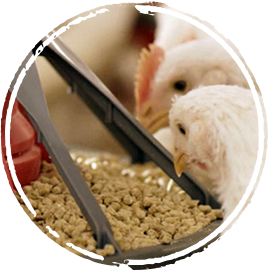 EXCEEDING THE BASICS
Chickens need more than food and water. Little extras add up to make a big difference. We're giving our chickens what they want and need, with forward-thinking initiatives such as advanced nutrition to address growth rates, natural light in chicken houses, and herbal products and probiotics.
REACHING OUT TO OUR FAMILY FARMERS
We're committed to building better relationships with the people who take care of our animals by communicating and listening more. We're improving things for farmers and our animals by connecting animal welfare to pay and incentives.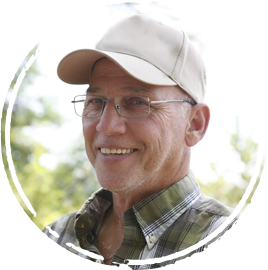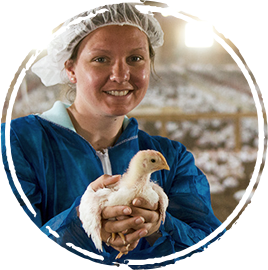 BEING HONEST AND OPEN
We're open to constructive criticism from everyone, and we're committed to answer to it. We're responding to questions, sharing important information about our animal welfare initiatives and starting conversations with key animal care stakeholders. Plus, our Poultry Care programs are audited by independent third parties.
INVESTING IN ONGOING IMPROVEMENTS
We've had an active Animal Care Council for more than 15 years, but we're still learning new things every day. We use what we learn to advance our animal care programs, ensure the health and safety of our chickens, and add next-generation initiatives to make every step even better.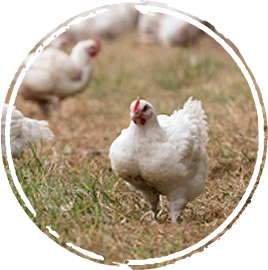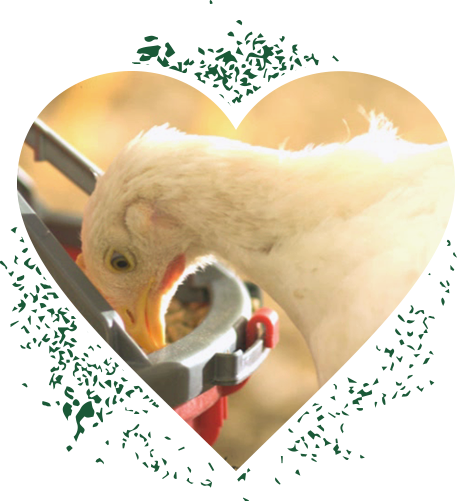 FIVE FREEDOMS
FOR ANIMALS
FREEDOM FROM HUNGER AND THIRST
We offer continuous access to nutritionally complete 100% veggie diets free from animal by-products. We also offer herbal products and probiotics to promote healthy chickens. For the future, we're working on chick feed nutrition that supports a stronger, healthier start to their development.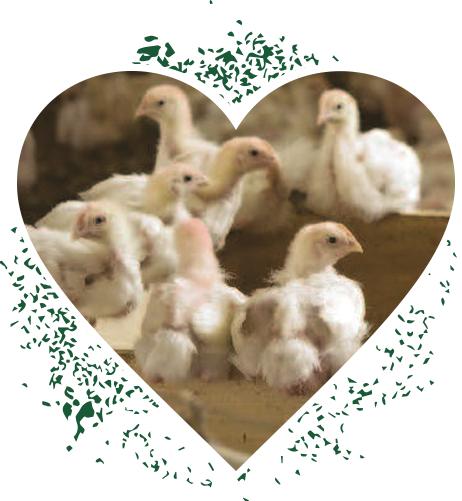 FIVE FREEDOMS
FOR ANIMALS
FREEDOM FROM DISCOMFORT
All poultry houses have state-of-the-art temperature control. Many of our chickens have outdoor access and natural lighting, and we're adding more houses like this every year. We enforce mandatory "lights off" resting periods and are studying how we can make chickens feel more comfortable in the future within their housing environment.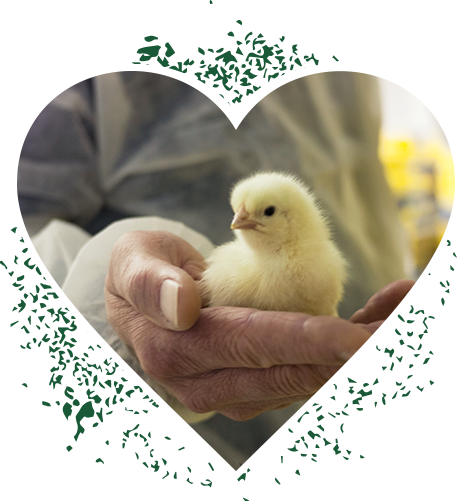 FIVE FREEDOMS
FOR ANIMALS
FREEDOM FROM PAIN, INJURY OR DISEASE
We are a leader in raising healthy animals without antibiotics. Our goal is to completely eliminate their use at our company. We provide constant supervision and veterinary care, and we never withhold care when needed. We prohibit genetic engineering in our breeds and are investigating slower growth breeds as an alternative.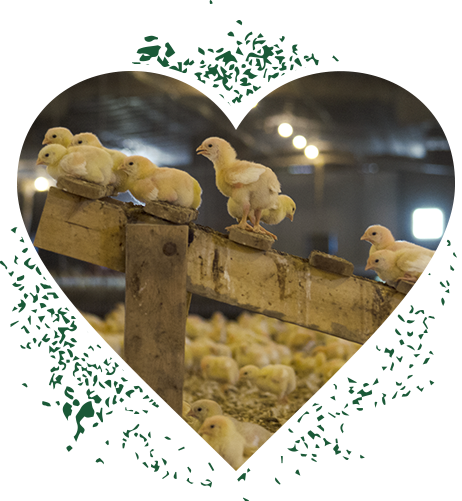 FIVE FREEDOMS
FOR ANIMALS
FREEDOM TO EXPRESS NORMAL BEHAVIOR
Simply put, we believe when raising poultry, chickens should be able to act like chickens. So we're funding graduate-level programs studying chicken activity and what encourages more activity and play. And every year, we're adding more housing with outdoor access, windows, perches and pecking bales.